Welcome to Scarlett O'Hardy's
Gone With the Wind Museum, the pride of Bobbie Hardy whose late husband, Randy Hardy, was most supportive of her love for the epic and, together, they amassed an impressive GWTW collection. After living in Houston for more than 30 years, the Hardys moved to the historic riverport town of Jefferson. They were inspired by the spirit of the citizens of Jefferson, their love of history and their determination to preserve the past. A Gone With the Wind collection seemed to fit perfectly in this locale, some 30 miles south of Randy's hometown, "the other Atlanta".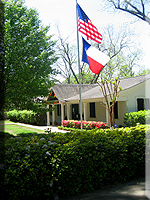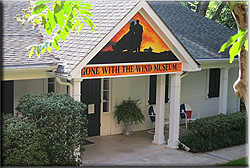 The museum, which opened on November 27, 1998, has welcomed thousands of fans from all 50 states , the Virgin Islands, and Argentina, Australia, Austria, Barbados, Belgium, Brazil, Bulgaria, Canada, Chile, China, Colombia, Denmark, El Salvador, England, Finland, France, Germany, Greece, Hungary, Iran, Israel, Italy, Japan, the Marshall Islands, Mexico, The Netherlands, New Zealand, Norway, Panama, Peru, Poland, Romania, Russia, Scotland, Slovakia, South Africa, South Korea, Spain, Sweden, Switzerland, Taiwan, Thailand, and Ukraine. Visitors enjoy a self-guided tour of the museum filled with more than a dozen antique cabinets displaying memorabilia. On the walls hang numerous domestic and foreign movie posters, as well as other memorabilia relating to the novel and motion picture.
A one-of-a-kind Gone With the Wind-themed Christmas tree is decorated with dozens of GWTW ornaments and more than 40 8-inch Madame Alexander dolls. In memory of Bobbie's friend, JoAnn Elliott Bond, the tree's creator, the museum celebrates Christmas every day of the year.

In recent years, additional ornaments and decorations have been added to the tree, thanks to generous donations to the museum collection - in memory of
Rev. Barbara Gilbert from her children; in memory of Brenda Gayle Sharpe from her family; and another generous donation from
Kathleen Galvin-Davis.

A limited edition print, "Scarlett on the Staircase" by artist Jeffrey Barson,
was a gift to the museum collection from Bonne and Robert Cantrell.


One of the museum's most popular attractions is a reproduction of Scarlett's green drapery dress, designed by Walter Plunkett and proclaimed by many to be the most famous costume in movie history. Your perfect Jefferson photo-op is standing with Scarlett and Rhett in front of the doorway of Tara. The mural was hand-painted by Jefferson artist Mickie Moore.




Created especially for Tara in Texas II and the event's grand finale, The Dixie Belle Showboat Returns to Jefferson, you will find a masterpiece by TJ's Custom Kakes of Avinger, Texas. Covered in fondant icing, the one-of-a-kind "cake" is a re-creation of Tara and its surrounding buildings and gardens.


A pair of original seats from Loew's Grand Theatre in Atlanta, site of Gone With the Wind's 1939 world premiere, invites visitors to rest a moment beneath a large medallion poster featuring Clark Gable and Vivien Leigh as Rhett and Scarlett in their famous "flaming embrace." Two cases display more than 100 editions of Mitchell's novel, both from the United States and abroad. A wide variety of GWTW character dolls produced by Madame Alexander and The Franklin Mint delight both young and old. The doll collection includes donations from Jane Eastland, Stacey Newell Davis, Carolyn Craig Nelson, and Pat Foster King.

Three large cases are devoted to author Margaret Mitchell and her 1936 Pulitzer Prize-winning bestseller. Among the items on display are a signed first edition of Gone With the Wind; a letter from Mitchell on her personal stationery; a Christmas card, with its original envelope, signed "Love, Margaret and John [Marsh]," and numerous photographs and biographies of the creator of Rhett and Scarlett.

The museum is home to dozens of items from the motion picture's original release, including magazines with GWTW covers, such as Time, Look and Progressive Farmer ; a Nunnally's "Scarlett Chocolates" candy box; original Atlanta newspapers featuring coverage of the premiere; a program from the Atlanta Junior League's Gone With the Wind Ball; wooden nickels, a matchbook, paint book; a rare movie program featuring Hattie McDaniel as Mammy on the back cover; an original Hattie McDaniel letter dated January 9, 1940; original handkerchiefs, scarves, jewelry, perfume bottles and "Scarlett O'Hara" games.
Six cases devoted to the continuing phenomenon of the book and film demonstrate just how much a part of American popular culture the beloved story and its characters have become. A large glass-front bookcase displays books about the novel, the film and its creators and stars.
The museum is honored to display a quilt pieced by Bobbie's lifelong friend, Ann Barnes, and quilted by Denise Givney. This GWTW quilt won 2nd place in the 2011 Jefferson Quilt Show. Quilting Treasures produced the 100% cotton fabric used in the masterpiece.

In addition to the movie's four main stars, visitors can view the autographs of Hattie McDaniel, Butterfly McQueen, Ann Rutherford, Evelyn Keyes, Cammie King, Rand Brooks, Ward Bond, Fred Crane,
Ona Munson, Mickey Kuhn, Thomas Mitchell, Barbara O'Neil, Victor Jory, and
Laura Hope Crews. The autographs surround
another GWTW-related quilt by Ann Barnes
and Denise Givney.


Featured in the museum is a child-like mannequin
representing Cammie King as Bonnie Blue Butler.
Miss King was the honored guest at Tara in Texas in
2003, and her last public appearance was
Tara in Texas II in April 2010. The museum proudly
displays Bonnie-related memorabilia including
dolls, figurines, and a vast collection of autographed stills.


The museum is home to more than 100 foreign editions of the novel including copies from Bulgaria, Chile, Czechoslovakia, Finland, France, Germany, Great Britain, Italy, Japan, Latvia, Lebanon, Poland, Romania, Russia, Spain, Turkey, Vietnam, and Yugoslavia.

A reproduction of Scarlett's burgundy velvet gown worn to Ashley's birthday party is surrounded by numerous foreign movie posters. One from Australia is stamped "not suitable for children." Other countries represented include Belgium, Germany, Italy, Japan, The Netherlands,
and Turkey.
The most stunning posters are rare
Scarlett and Rhett 1947 Spanish lithographs
by J. M. Arnau, Barcelona, Spain.

A one-of-a-kind Gone With the Wind dollhouse, the exterior fashioned after Twelve Oaks, the Wilkes' plantation, was designed and built by
Linda and Danny Hass, owners of Country Arts Gallery, LaGrange, Texas.



Mammy, one of 10 character dolls displayed in the mansion, stands in Scarlett's bedroom at Tara, and Bonnie is playing in her elaborately decorated bedroom in the
Atlanta mansion.


The eight rooms represent three GWTW houses: the big hall, dining room and library at Twelve Oaks; the parlor and young Scarlett's bedroom at Tara; and Rhett's, Scarlett's and Bonnie Blue's bedrooms in the Atlanta mansion.


Aunt Pittypat visits in Tara's parlor, and the beautifully appointed dining room at Twelve Oaks awaits the "war talk" scene during the barbecue.
---
Admission:
Adults....$5 12 and under....$1
NORMAL BUSINESS DAYS*
Thursday thru Saturday
10 am - 3 pm
*Please call (903) 665-1939, in advance, if you are
coming to Jefferson specifically to visit the museum.
OUR NORMAL BUSINESS DAYS ARE SUBJECT
TO CHANGE WITHOUT NOTICE.
408 Taylor Street Jefferson, TX 75657
(903) 665-1939
---
© 2000-2021 Scarlett O'Hardy. All rights reserved.
Gone With the Wind, its characters and elements are trademarks of
GWTW Partners LLC and Turner Entertainment Co.